1: Terrorists, not 'rebels'
Western states US, UK, France, and allies – 'the IS that's made it' – Saudi Arabia have funded and armed proxy terrorist forces in Syria, both directly and indirectly. They sit on a sham moral highground with endless dirty wars, coups and arms deals with tyrants under their belts. The terrorists our governments fund and arm have always been labelled through our 'news' the much nicer more moral-sounding 'rebels' and perhaps there was a very brief time when that name wasn't a complete sham. Yet for Syrians and for others in the region, Al-Qaeda, ISIS, and the myriad of differently-named interlinked jihadi groups are all simply Daesh: a Western-funded terrorist cancer that they desperately need to remove to begin to rebuild their shattered once beautiful country. And they will, if the West keeps the hell out.
A great number of Daesh have come from outside the country, estimated to number upwards of a hundred thousand, backed by the West with arms and funding – traceable, in the case of British financial support, back to the taxes from your pocket. Their purpose? To cause mass civil unrest and the toppling of the government there, whatever the cost in human life, irrelevant entirely to Western warmongers already bathing in the blood of Afghans, Iraqis, Libyans, Yemenis … while counting the oil, gas and arms dollars in billions.
Even back in 2012 reporters actually on the ground in Syria were saying there were NO pro-democracy opposition fighters of any note, despite the spin we've endlessly received through the loudest 'news' channels. The military opposition was from then already composed almost entirely of sharia-state seeking militias, dominated by Al-Qaeda (Al-Nusra).
Remember Al-Qaeda? They're the ones the 'Global War on Terror' that was announced following the towers collapsing in NY was supposed to be against. Funny how things change, eh?
2: A Tolerant Society or Wahabbi Extremism? mmm
Despite the 'animal Assad' type labels thrown unquestioned at the Syrian president by smart-suited Western warmongers like Trump, Obama, Cameron, May, and members of their regimes, Bashar Al-Assad and the Syrian Arab Army have been completely naturally and unsurprisingly supported by the vast majority of Syrians for holding the country together; and for defending them from the unimaginably brutal, ethnic-cleansing terrorists, who have divided communities, shot, beheaded, hung, burnt, tortured, caged, raped, kidnapped, sold girls between each other… And like an even more depraved Ku Klux Klan claiming Christianity for themselves, the worst of them use a perversion of Islam to give brainwashed followers a 'method' to their depravity. Yet still our media somehow played that down and told us they were 'the good guys' and it was the President and the Syrian Arab Army that were the real 'bad guys'.
Like it or not as Western 'news'-influenced observers, President Assad has won landslide internationally observed elections with above 80% turnouts, that have openly allowed varied opposition parties and which have created an ethnically diverse parliament with a high number of women; a far better functioning democracy than a great many Western allies.
Areas liberated from the terrorists see people returning home after years of asylum abroad and in government controlled areas. Long-seperated relatives embrace in tears and tell of how the terrorists hoarded the food and forced them to dig tunnels as slaves. And for the first time in several years Syria's many Christians have enjoyed large public celebrations of Christmas and Easter – All kept from our mainextreme Western 'news' screens for the fact they shatter the narrative our leaders want us to swallow.
3: A False Flag or a Pointless Self-Destructive Atrocity?
Over the last 2 years or so the Syrian Arab Army with key support from Russian and Iranian allies have clawed back control of 90% of their country from the Western-backed terrorists. The absolute worst thing they could possibly have done 'to grasp defeat from the jaws of victory' would have been to use Chemical Weapons in an area they knew they were about to take over anyway – and have now done so through negotiation with the terrorists: over 90% of Ghouta had been liberated before the release of the unverified film, and terrorists had been allowed to relocate with their families, and the same was inevitable in the final Ghouta enclave Douma, and has now happened.
The Syrian Arab Army using CWs there would not only have been pointless, it would have been the single-most self-destructive act possible, by giving Western warmongers an opportunity to jump on a fake moral pretext to 'make good' on their regime-change plans by acting directly with missiles and bombs, to make up for their failed – but unspeakably murderous and destructive – proxy war using terrorists as foot-soldiers that's raged on since 2011.
The terrorists had kidnapped and 'disappeared' thousands of children and women during the last 7 years with little to no narrative-busting criticism, and to shore up the fake moral high-ground the Western-created, Western-funded propaganda troupe 'The White Helmets' have proved highly skilled at creating emotive videos for popular consumption on Western 'news' shows to win hearts and minds, and so validate calls for regime change.
Media Power
We cannot underestimate and must not be complacent towards the powerful impact of the media in the hands of a tyrannical few. In this case the power of three times daily (especially in the run up to related Parliamentary votes) one-sided 'news' reports of the latest on 'evil Assad vs the good guys', 'killing his own people out of pure blood-lust' were piled on endlessly to build our inevitable emotionally-charged support for regime change.
The reports usually made by Daesh themselves always film from the perspective of the 'rebels', but almost never actually turn the camera back and show us much of who they are – almost all, according to accounts from even pro-Western sources, sharia-state seeking jihadis of varying extremes (from extreme to ultra-fanatic): in Western terms unquestionably 'Terrorists'.
Perhaps an even worse more shockingly deceptive gaping hole in our 'news' has been that we are never ever shown how the vast majority of Syrians value the tolerant multi-ethnic religiously diverse modern style of life there, and of course support their government in the fight against Daesh terrorists – who despise and brutally punish such 'decadence' at every opportunity.
The totally natural fear among Syrians of the headchopping Western-backed hordes coming to shatter their tolerant society and turn it into a brutal medieval nightmare – look at other consequences of Western regime-change – just cannot form part of the 'news' narrative for we are drip-fed here.
Without doubt there were and are problems of corruption and a level of police state brutality that needed / still need reforming in Syria. The way to achieve this is by supporting the growth of a functioning democratic Syria, not by helping jihadis with arms and money to topple the leader – take the ongoing chaos in Libya, for example, where slave markets and daily drownings of desperate refugees are some of the consequences of Western so-called 'humanitarian intervention'.
Certainly no Syrian, however anti-the Assad government they may be, wanted the peaceful reform movement before March 2011 to be hijacked by mercenary jihadi extremists wreaking division, death and destruction on its citizens, funded and armed by the West with mercenaries from Libya, Chechnya and a host of other countries used to fight for regime change whatever the 'collateral damage'. With the whole dirty conflict painted to Western mainextreme 'news'-followers as 'democracy seeking rebels vs evil regime'.
Just like the fake 'humanitarian intervention' in Libya – "Flash! Bang! 48 hours for us to bravely save Benghazi to stop mass rapes and mass murder" – all shown to be lies, and even stated as such by the UK Parliament many years too late of course. "Falsehood flies, the truth comes limping after". At least tens of thousands dead, many at the bottom of the sea seeking refuge. Africa's richest country had been threatening US oil dominance, so it was shattered with Western bombs on false pretexts, and overrun with terrorists. Awaiting a new 'humanitarian invasion' no doubt. While its oil is 'in safe hands'. This terribly sad state replaces its once envied wealth, its supportive welfare state and healthcare system, and the now decaying once innovative and hopeful 'greening the desert' irrigation programme.
Just like the lies too about Iraq's 'WMDs' and Britain being "45 mins from doom"; Saddam having been first installed following a CIA coup in the country in the early 60s.
All fully verifiable facts buried from view in the mainextreme.
These Big Lies – the best kind according to Goebbels, who presumably knew this well – are far too shameful for Western leaders to allow to reach the adoring mainextreme, and far too painful for many lulled 'news'-followers to begin to face up to – "It can't be true – we're the good guys! We have to be!". But face up we must! If not even for Syrians, then because we're further down the same list.
It's urgently time now to break the lies over Syria and get the truth out there!
We must all challenge and shame the mainextreme media, but go much further too and take opportunities to grow a saner fairer kind of News that puts people and planet first.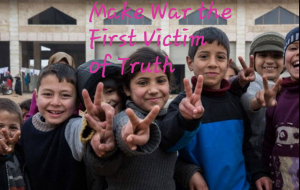 AFTER IRAQ, AFTER LIBYA, WE HAVE TO ASK OURSELVES – WHAT ARE WE? JELLY? TRUTH-DENYING BRITISH BAKE-OFF X-FACTOR WATCHERS PULLING THE BLANKET UP CLOSE AND CLINGING TO A FANTASY OF 'US BEING THE GOOD GUYS'!?!
WE CANNOT ALLOW OUR GOVERNMENT ALREADY STEEPED IN LIES AND THEFT AND HUGE NUMBERS OF DEATHS THROUGH CUTS AND PRIVATISATION HERE IN THE UK TO JOIN ANOTHER U.S. BOMBING WAR BASED ON MORE AND EVEN THINNER LIES.
WRITING TO MPs WILL LIKELY BE IGNORED BUT WORTH DOING ANYWAY, AND SHARING LETTERS/EMAILS PUBLICLY ON SOCIAL MEDIA.
IF THIS GOVT PUSHES ON REGARDLESS, MASS ACTION PEACEFULLY OCCUPYING KEY LOCATIONS IS THE ONLY OPTION.